Headphone Buying Guide
Headphones, have come a long way in the last fifty years, when the majority of them were introduced for military purposes. Now, headphones offer superior quality sound for music and television viewing, and come with numerous added features such as Bluetooth connectivity and wireless control. And like most gadgets, they continue to get smaller while increasing in features and sound technology. The headphones described here are just a few of the options available on the market today
.


In-ear
are most common these days with MP3s players, such as iPods (as well as iPhones) and Zunes. Made to fit snugly in the ear canal, in-ear headphones do away with headbands, which can cause ear phones to slip off during head movement. While the vast majority of these are connected to a device via a wire, there are some on the market they are wireless and offer Bluetooth options. The sound quality in in-ear headphones is no better or worse than traditional headphones, but the downside is that more ambient sound is allowed to mix in, due to them not covering your entire ear.
Over the Head Headphones

This is a traditional product in design, but the latest models can offer more bells and whistles than ear buds. Along with additional features like comfortable padding and conforming substances, they can offer wireless connectivity, volume controls, equalizer controls, and noise reduction settings. Like in-ear headphones, today's
over the head headphones
offer clear quality, but again can let ambient noise slip through. Most of the latest models with wireless options will range between $50 and $200. Of course there are cheaper pairs that still connect via cable.
Over Ear headphones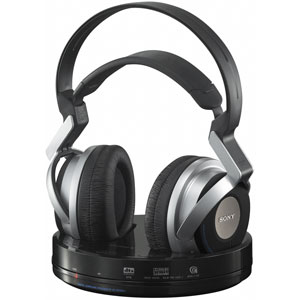 Also known as ear goggles or DJ style, due to their encompassing ear pieces that cup the entire ear, these products could be best recommended for all around sound quality. They will block out all ambient sound (within reason). Essentially they are noise-canceling earphones. Take for instance the
Sony MDR-DS6000
. This particular wireless set allows you to move about 100 feet away from the source, and also offers 5.1 surround sound effects. Over ear headphones are probably the largest style on the market and therefore offer the most advantages packed into the frame, such as radio tuning, deep bass settings, and Bluetooth connectivity with DVD players, TVs, iPods, 3G phones, and much more. Though they may appear cumbersome, these are your best bet for losing yourself in the sounds of a film or song.
Wireless headphones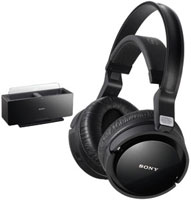 Most types of headphones come with wireless options these days, the exception being ear buds. But don't get confused, there are plenty of wireless ear bud models on the market—they're just not as popular since you now have two loose buds in your ears, and if one falls out it can easily be lost. Most wireless ear buds are Bluetooth sets used exclusively for phones. If you're looking for
wireless headphones
, research why and when you would need a complete head set or separate ear buds. For movies and music, it's probably better to go with a headset, but for talking on the phone, an ear piece is fine.


For more information on a wide selection of headphone and their technologies, visit our Learning Center.